Fully half of the law-enforcement wiretapping activity in the U.S. is going on in just four states— Nevada, California, New York and Florid, according to the Administrative Office of U.S. Courts.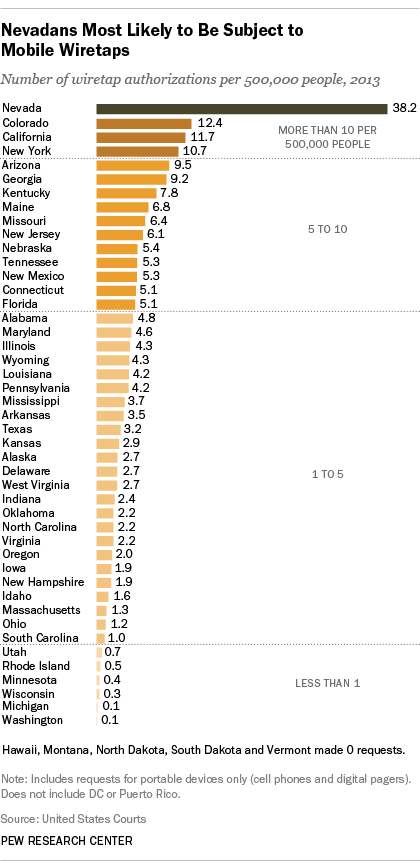 While Nevada leads all states in proportion to its population, California far outpaces the rest of the nation with over a quarter (26 percent) of the reported authorizations in 2013. New York had 12 percent of U.S. wiretaps and Florida followed with about 6 percent. In raw numbers, Nevada also had about 6 percent of the U.S. total.
For every 500,000 people in the Silver State, 38 mobile wiretaps were requested.
The U.S. Courts report is an annual list of the authorizations, by federal and state judges, for law enforcement to monitor phone communications as part of criminal investigations.
The report, covering 2013, indicates that almost 90 percent of the requests for wiretap authorization referred to criminal drug activity. Some 3,744 arrests were attributed to follow from the wiretaps, as were 709 criminal convictions.
"Why are there so many wiretaps in Nevada?" asked the Pew Research Center.
"We don't really know, "it then answered. "Law-enforcement officials in the state didn't respond to our inquiries.
"The state does have the second-highest violent-crime rate in 2012, with 607.6 incidents per 100,000 people, according to the FBI's Uniform Crime Reporting program. However, those figures may be skewed by Nevada's fairly small resident population (2.8 million), the basis for the rate calculation, versus the millions of tourists who pass through each year."
While the wiretaps detailed in the U.S. Courts report reflect authorizations issued through state and federal courts, they may not be reporting wiretaps by the National Security Agency and Drug Enforcement Administration.
Reuters has noted that law enforcement agents have been directed by the DEA and NSA to conceal how some of their investigations actually begin — not only from defense lawyers but also sometimes from prosecutors and judges.