LAS VEGAS — When the late Tracy Lawrence went before a Clark County Grand Jury last November to be quizzed about her activities as a notary for Lender Processing Services, she must have felt uneasy.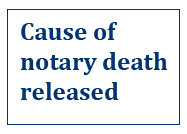 On the one hand, supervisors in the big back-office firm serving the mortgage industry had repeatedly assured her and other employees that what they'd been doing — signing supervisors' names, with the supervisors' permission, to notices of default — was entirely lawful in Nevada.
It was also legal, employees were told, for them to then notarize such documents without having the alleged signer in front of them.
On the other hand, the national news for an entire year had been full of stories about "robo-signing," "forgery," "foreclosure fraud" and the like. In the office, the anxiety had been rising. One notary in the office — notwithstanding the assurances from higher-ups — simply refused to sign and notarize documents. Instead, he notarized blank documents, and let someone else sign them with a title officer's name. To Tracy, that seemed, at best, a distinction without a difference.
The Nov. 8, 2011, Clark County Grand Jury transcript shows that Chief Deputy Attorney General John Kelleher led Tracy through numerous questions and into a discussion of a phone conversation she'd had with her supervisor, LPS Title Officer Gary Trafford:
Kelleher: What did he tell you on the phone?
A. He told me that we were going to continue treating our documents as I always had.
Q. Basically would it be fair to say forging his name?
A. Well, I don't consider it that since he told me to, but I guess legally if that's what you want to call it.
Q. What would you call it if you were to sign someone else's name?
A. Well, the fact that he gave me permission I don't consider it forgery, but I guess, like I said, legally that's probably the definition.
Unfortunately for Tracy — and indeed for the office of Nevada Attorney General Catherine Cortez Masto itself — it now appears that Tracy's vague understanding of Nevada notary law was actually better grounded than that of the head of the attorney general's Mortgage Fraud Strike Force.
While the strategy the attorney general and her staff were pursuing is classic — first charge lower-level targets, then "flip" them into becoming witnesses against higher-ups — there was a fundamental problem.
From all appearances, detailed below, no one in the attorney general's office had ever taken the time to become fully conversant with the relevant Nevada law.
Nevertheless:
On Nov. 14, 2011, the office got Lawrence — represented only by Clark County Deputy Public Defender Brigid Hoffman — to agree to plead guilty to violation of NRS 240.155, a gross misdemeanor.
The next day, the attorney general's office indicted Trafford and fellow LPS title officer Gerri Sheppard, charging them, together, with 404 felony counts and 202 gross-misdemeanor counts.
Then, a month later, on Dec. 15, attorney general deputies filed a civil complaint against Lender Processing Services itself, charging that the company and its various subsidiaries "falsified, forged and/or fraudulently executed an unknown number of foreclosure-related documents in Nevada and across the country" and so violated the state's consumer protection law, NRS Chapter 598, the Nevada Deceptive Trade Practices Act.
Attorneys for LPS filed their response — a motion for dismissal of the attorney general's complaint against the company — on Jan. 30, 2012.
While the attorney general's brief had been largely general — recounting Nevada's plight as the location of the country's highest foreclosure rate and asserting nonspecific patterns and practices by LPS of "deceptive conduct that willfully misled consumers, courts and the public" — the LPS attorneys' motion was full of specific, on-point citations of Nevada law.
Moreover, the statutes and precedents cited by the LPS attorneys suggest Nevada law is actually much more permissive regarding the various activities that, together, constitute "robo-signing," than one would ever gather from the court filings and press releases issued by the Nevada attorney general's office.
Take, for example, the practice of one person authorizing another to sign the former's name to legal documents — something that the attorney general's office "repeatedly mischaracterizes as 'forgery,'" say the LPS lawyers, adding that:
… Nevada law expressly permits a person to authorize another person to sign their name on documents, including negotiable instruments. See NRS 104.3402; see also NRS 111.205(1). Because surrogate signing is permitted by both statutory and common law, it is not actionable under the Act. See NRS 598.0955(1)(a).
They then cite numerous court rulings that an "essential element of forgery is the lack of authority of the signor to sign the document."
The LPS motion asserted the AG's complaint is "a collection of suppositions, legal conclusions, and inflammatory labels that … should be dismissed with prejudice."
Early last week, it was attorneys for Gary Trafford weighing in. They spotlighted what seems to be another gaping hole in the attorney general's case against the two LPS title officers — and also in the case against the late Tracy Lawrence that led to her guilty plea.
First, Trafford's attorneys noted that the attorney general had indicted the title officer on a spectacular 204 counts of "forgery" and 102 counts of filing "forged" documents with the Clark County Recorder.
Then, having established the centrality of the forgery issue, Trafford's attorneys turned to the legislative history of the law that Tracy Lawrence had been accused of breaking: NRS 240.155.
The provision had been part of a housekeeping measure, Senate Bill 453, submitted by the Secretary of State's Office during the 2005 Nevada Legislature.
Deputy Secretary of State Renee Parker told the Assembly Judiciary Committee that "Section 1 of the amendment provides for a gross misdemeanor for a notary public … to notarize a signature of an individual who is not in the presence of a notary."
"It only makes that provision," she continued, "if they willfully notarize that document."
Assemblyman John Carpenter, a rancher in Elko County, expressed concern:
Say a person wants to lease some property from my wife and me. They send a document on Friday afternoon by Federal Express. They want this document back by Wednesday of the next week so they can take it to their boss to have it approved. There is a person that has been notarizing my signature for 20 years and works in an attorney's office. We try to find him over the weekend, and he is not around. So I sign the document, and my wife takes it down to the notary. He notarizes it Monday morning, even though I'm in Carson City. Under this scenario, would the notary and myself be committing any gross misdemeanor?
Replied Parker:
No. Because we do have situations where you are known to the notary, they can notarize your signature if they have been notarizing it for years. Section 1 is a person who is not in the presence of the notary public or unknown to the notary public. So in the circumstance of the notary public who has never notarized your signature, they would be committing a gross misdemeanor. In circumstances of someone you are known to, they would not be.
Later in the hearing, Assemblywoman Barbara Buckley inquired about a practice followed by staff at the Clark County legal aid center that she administers.
"We oftentimes notarize for the homeless," she said. "Sometimes we have to really patch this together, so we will get a shelter worker who once saw their identification to notarize that yes, they swear this is the person."
Replied Parker: "It was not our intent to prohibit a currently allowed practice."
About two weeks later the bill was once again before Assembly Judiciary.
"What is the pleasure of the Committee?" asked Chairman Bernie Anderson, D-Sparks.
"We need to make it part of the record," said Assemblyman Carpenter, "that if it's a notary who has known someone for a long time, and if you're not in that presence and they notarize, they are not guilty of a gross misdemeanor.
"Ms. Parker stated that at the hearing, but I think it needs to be made part of the record so that does not happen. Very often you need to have something notarized, and maybe you can't be right there at the same time. If he or she has known you for a long time, it should be no problem."
Anderson agreed — announcing: "Whoever gets the assignment for this, Mr. Carpenter will make sure they get the opportunity to read this particular section when we do the statement on the Floor," during the committees' official reports to the full Legislature.
Contacted by telephone in Elko County on Friday, Carpenter said he'd been trying to make sure the modified language pushed by the Secretary of State's Office did not ignore the situation of people "in the real world."
"Those situations, they come up, you know," he said.
Traveling back and forth from the Legislature in Carson City, "I wouldn't get back home here until late at night. And maybe we were selling a piece of property, or buying a piece of property, or whatever and [a document] had to be notarized. So I'd sign it, and my wife would take it down to the notary on Monday.
"That's why I brought it up, you know, at the hearing. And Bernie understood, you know, what I was talking about. And I'm sure the secretary of state, she understood it…. When you're in the Legislature, you have to try to apply it to real-life situations. That's what I was trying to do there, and everybody understood."
Originally, attorneys for the LPS firms and the attorney general's office were scheduled to appear before the Eighth District Court on March 13.
In mid-February, however, the state and LPS jointly agreed to "engage in settlement negotiations."
Those negotiations are now proceeding.
Steven Miller is the managing editor of Nevada Journal, a publication of the Nevada Policy Research Institute. For more in-depth reporting, visit https://nevadajournal.com/ and http://npri.org/.
Read more: