If you've ever doubted that special-needs families face grudging resistance and outright lawbreaking in America's school districts, David Rostetter can quickly destroy any illusions you may have.
Since May 2014 Rostetter has headed federal supervision over the special-education program in America's second-largest school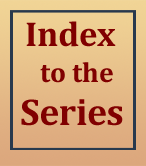 district, Los Angeles United. Before that, he had a lengthy, high-level career in the federal administration and oversight of American special-education law.
Speaking to EducationWeek & PBS reporter John Tulenko in 2016, Rostetter acknowledged on the public record what many parents of special-needs children have long believed — that systemic flouting of the federal Individuals with Disabilities Education Act (IDEA) is conscious school-district policy in many locales across the U.S.
"I've had a lot of superintendents around the country," Rostetter began. "I'll go to them and say, 'This is really bad over here. You know, it's a budding lawsuit and it's patently illegal.'
"And their answer will actually be, literally be, 'I'll deal with it when we get sued about it. Thanks for your advice, Dave.'"
PBS aired the full report on February 23, 2016. A transcript is online here.
The silent rebellion
That the pattern of which Rostetter spoke is a nationwide phenomenon becomes quickly apparent online. All the major U.S. metropolitan public-school systems still today — 40-plus years after the first version of the Individuals with Disabilities Education Act became operative law — remain in either constant litigation or under federal monitorship.
Indeed, it soon becomes clear that wide swaths of America's public school systems — notwithstanding the pieties districts voice when the predictable lawsuits are brought — have long been in silent rebellion against the federal law.
The sheer scope of the violations shows that IDEA is not working as many parents were led to believe it would.
A question remains, however: May not the law actually be working as cold-eyed Congressional realists intended? For a revealing common denominator can be seen in the school districts' often-flagrant violations of the IDEA law: Virtually all of the lawbreaking just happens to save money for the districts.
Moreover, the risks of district officials being held to account have long been, and remain, low. Only a minority of victimized families have the financial resources, the knowledge of the law and/or the will to drive districts into court and enforce, through litigation, adherence to IDEA's requirements. Whereupon, it is taxpayers and, frequently, district insurers that pay — not the district administrators who flout the law.
In a significant way, the current configuration of the Individuals with Disabilities Education Act actually incentivizes district duplicity: Contextually, the law places school-district administrators in a double, or even a triple, bind. While they face both moral and legal mandates to provide often-expensive services for special-needs children, the law never provides anything like the resources to do so. Moreover, multiple court precedents — for example, Goldberg v. Kelly and Mills v. Board of Education — deny districts the ability to plead poverty. As Mills held, the interest of a district in the education of special-needs children "clearly must outweigh its interest in preserving its financial resources."
Thus, all across America and only under the whiplash of contempt-of-court citations, have major public school systems been brought, even partially, into conformity with the requirements of IDEA.
The stories of the three major school systems reported on below clearly show that record. Had readers the time, however, many more cities and school systems could also have been cited.
LAUSD
In Los Angeles, federal court monitor David Rostetter is now entering his 5th year overseeing special education restructuring at the Los Angeles Unified School District.
The agency he heads — the Office of Independent Monitor, which answers to the United States District Court for the Central District of California — owes its existence to a class-action lawsuit brought before that court in 1993.
That suit alleged that the Los Angeles Unified School District (LAUSD), was simply ignoring requirements of the federal IDEA law requiring that special-needs children be identified and that services be provided them.
Thousands of students were being affected, but the suit had been filed in the name of a dyslexic girl — Chanda Smith, who had twice been retained in tenth grade. Her records had not followed her from one LAUSD school to another and she had waited over two years to be evaluated for eligibility for special educational services.
At first only relatively modest changes in district practices had been sought by the plaintiffs. Over the next 10 years, however, that changed. Under the supervision of the court, as the contending parties negotiated settlement terms, the lawsuit morphed into a series of complex agreements — that attempted to promote systemic, district-wide reforms.
One of the first interim settlements was to hire two consultants tasked with first analyzing LAUSD's special-education division and then identifying division areas that would have to be reformed in order to meet the IDEA law's requirements.
Ten months later, the consultants issued a 191-page report. It documented the district's "pervasive, substantial and systemic inability to deliver special education services in compliance with special education law."
Identified were 23 areas of noncompliance, which the consultants put under four main headings:
"entrenched and long-standing practices that marginalized the delivery of special education programs and services";
an unwillingness on the part of the entire district to recognize that the education of students with disabilities was its responsibility;
a lack of "effective management, governance and internal oversight of special education programs and facilities", and
a lack of accountability resulting in "administrators, teachers and staff [who] engaged in substantial and repeated violations of special education laws."
In the mid-1990s, the district — attempting to settle the case — agreed to multiple reforms. However, it soon became clear that for the district to actually accomplish reform was a very different thing.
Thus, for special-needs students, little of significance changed. The district's trustees and bureaucracy — no longer under the negligent and half-apathetic supervision of voters and politicians — remained largely in full resistance mode.
By 2001, therefore, cooperation between the plaintiffs and the school district had broken down. The new LAUSD school superintendent, former Colorado governor Roy Romer, joked that Chanda Smith was "some form of worship." And the district school board rejected four reform-implementation plans that parent committees had developed under the consent agreement.
Overruling the school board's rejection of the four plans, the federal court ordered them implemented. The board appealed to the next higher court, but was rebuffed.
Two years later, after the new mediations, a different modified consent decree was agreed to by plaintiffs and district representatives. And in May 2003, it was approved by the court.
Under the new agreement, an Office of Independent Monitor was established — replacing the arrangement established seven years earlier, in which two consultants had operated as "co-consent decree administrators."
The new decree also established three primary sets of measurable requirements, which the Los Angeles Unified School District pledged to meet by 2006.
Of course, it did not.
Today, almost 12 years after those pledges and a quarter-century after the initial Chanda Smith lawsuit, LAUSD has in certain areas met agreed-upon performance indicators. In other areas, however, according to the latest annual report by the Independent Monitor, the district still remains noncompliant.
The on-the-record statement by David Rostetter that began this article clearly reflects, at least in part, his experience as Independent Monitor over America's second-largest school district.
Almost certainly, however, it also reflects America's broader situation — where calculated resistance to full compliance with the letter and spirit of the IDEA law has long been explicit — if disguised — policy.
The Texas Education Agency
Consider Texas. In the fall of 2016, flagrant violation of federal law by the State of Texas was exhaustively documented by the Houston Chronicle.
A scorching series revealed how the state's Texas Education Agency (TEA) had, for the previous 12 years, enforced an arbitrary 8.5 percent cap on the number of children with disabilities that state school districts could identify and place in special education.
That number is some 4.5 points below the average percentage of special-needs children in school populations.
Even Texas had averaged a special-education population of 12.1 percent in the years before the TEA capping program began, noted the Thomas B. Fordham Institute, a national school-reform organization.
After 2004, however, districts found by TEA to have exceeded the 8.5 percent benchmark received lower scores on their state audits. Next, they were required to write Corrective Action Plans describing how they intended to lower the enrollment of special-needs children.
The Chronicle estimated that "As many as 250,000 children with autism, attention deficit hyperactivity disorder, dyslexia, epilepsy, mental illnesses, speech impediments, blindness and deafness [had] been denied needed services."
Alerted to the Chronicle's series, the U.S. Office of Special Education and Rehabilitative Services, OSERS, in early October 2016 demanded the State of Texas answer, in writing, within 30 days, a detailed set of pointed questions.
Additionally, OSERS directed Texas to "Discontinue any cap on the identification of children with disabilities … unless the State can provide evidence" that the state monitoring program "has not led to districts not referring and evaluating students suspected of having a disability…"
The TEA — while denying that the state program had ever "set a cap, limit or policy on the number or percent of students that school districts can, or should, serve in special education" — nevertheless announced it would suspend the suspect program.
For the previous decade, according to Fordham's citation of federal data, Texas had been the U.S. state with the lowest numbers of identified and placed special-education students.
The five other U.S. states regularly reporting the lowest percentages of identified and placed special-education students during that same time frame were California, Colorado, Georgia, Idaho and Nevada: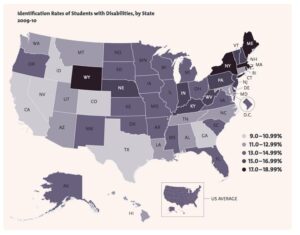 Based on how California and Texas appear to have produced those low percentages, questions are bound to be asked how Nevada, too, made that low-percentage list. That will be addressed in Part Four of this series.
New York City
In February 1979, after a decade of reports documenting both long, unmet, waiting lists of handicapped children and dithering by the City Board of Education and the state department of education, plaintiffs filed a federal class-action suit, Jose P. v. Ambach.
Defendants acknowledged the allegations of plaintiffs but argued that, for the federal district court to take the case "would disrupt the State's efforts to timely evaluate and place children in need of special education." But the judge, noting the long history of state and city noncompliance, took jurisdiction and soon found the state and city governments liable. Then the court appointed a Special Master and gave him extraordinary legal authority.
"The basic judgment in Jose P.," later wrote Michael Rebell, one of the plaintiff attorneys, "was formulated relatively quickly because, as in most successful negotiations, a way was found for both sides to obtain their primary goals.
"Defendants here could take satisfaction from the fact that their educational philosophy, as well as their basic structural reform plan, were adopted as the core of the judgment. Since the judgment provided the specific timelines, resource commitments, and due process procedural protections that were their main concern, plaintiffs also believed that their prime objectives had been achieved."
After the basic judgment, however, negotiations expanded greatly, as hundreds of complex issues began to be addressed. And though by 1981 defendants and plaintiffs had agreed upon many plans, the question of actual compliance by the city had become much more controversial.
In October 1982, the Board of Education rebelled entirely, filing a motion to vacate the court's judgment. Implicitly, the board was threatening legal action that would terminate the court's involvement in city special-ed matters.
The school board and its chancellor argued that they had substantially satisfied the requirements of the judgment, citing their own recent statistics indicating the waiting list backlog had been virtually eliminated by the summer of 1982.
Plaintiffs responded that defendants had manipulated the statistics to falsely show waiting lists had been eliminated. Furthermore, they claimed, defendants' papers did not even allege compliance with the numerous other substantive requirements of the judgment — such items as individualized education program (IEP) preparation, mainstreaming, facilities accessibility, and provision of related services.
The federal judge rejected the school board motion and, in an extensive opinion in February 1983, upheld plaintiffs' position that defendants were in noncompliance. He ordered contempt hearings to compel compliance.
Those hearings, however, were never held. The court's strongly worded response had instead resulted in the school board suddenly reversing field and becoming much more cooperative.
Nevertheless, it remains unclear how successful special-ed reform in New York has been — even with an ostensibly compliant Board of Education. A revealing report, "Waiting for Special Education," was published 25 years later in June 2008 by the New York State Comptroller's Office.
It noted that:
After a 2003 reorganization of the city department of education, the number of students in the evaluation process for more than 30 school days nearly doubled.
The number of unfilled recommendations for related services more than doubled from 28,624 in June 2003 to 64,897 in June 2007.
More than half of all students receiving new placements in special education during the 2006-2007 school year (2,251 students) waited longer than 84 days for a program placement.
In the 2007-08 school year, a monthly average of 4,549 students remained in the evaluation process for more than 30 school days, including 2,464 for more than 60 school days.
That same year, a monthly average of 14,479 students did not attend a recommended program within 60 school days, and more than half of those cases were in the placement process for more than 100 days. Students who require services in a language other than English are delayed more often.
In recent years, also, headlines continue to report significant problems in New York's attempts to meet federal law requirements for children with disabilities:
2014-11-06 New York City Parents File Class Action Lawsuit against NYC Department of Education
2015-03-10 Fixing Special Ed: Are New York City's Reforms on Target?
2015-05-20 D.O.E. settles lawsuit over students with disabilities
2015-12-21 Most New York City Elementary Schools Are Violating Disabilities Act, Investigation Finds
2016-01-08 Special Education Suit in New York Wins Class Action Status
2016-02-02 New York Public Advocate Sues Education Dept. Over Disability Services Issue
2017-07-11 Some New York City Students Not Getting Therapy Services, Report Says
Part Four of this series recounts the saga of the special-education audit that CCSD requested — and then tried to discredit.
——————
Editor's note: This article originally misreported the date of David Rostetter's appointment as Independent Monitor of the Los Angeles Unified School District. Nevada Journal regrets the error.
——————
Earlier in the series:
Part 1: Supremes' decision on special-ed sets higher standards for care
Called 'a recipe for financial disaster' by unhappy
public-schools groups
Part 2: New, higher special-ed costs looming for State of Nevada
9th Circuit signals lack of patience with ploys
school districts have used to suppress cost
——————
Steven Miller is managing editor of Nevada Journal and senior vice president at the Nevada Policy Research Institute.
——————