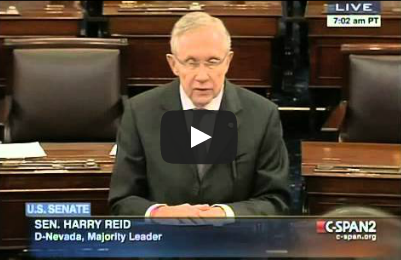 WASHINGTON DC — Harry Reid's obsession with the Koch brothers is now documented in a video compilation produced by a Washington, D.C., newspaper.
The Washington Free Beacon notes that Nevada's senior senator has "gone to incredible lengths to demonize a pair of anti-cancer philanthropist brothers named Charles and David Koch," mentioning them 134 times in a series of "strange diatribes" on the Senate floor, which the paper documented visually.
David Rutz, the newspaper's video editor, compiled some 134 times that Reid has, to date, mentioned the Koch brothers on the Senate floor.
Characterizing Reid's Koch activities as an "unrelenting smear campaign," Rutz also suggests that Reid may well be violating Senate rules by using his "taxpayer-funded website to bash the Kochs."